TERRA COTTA
a new recording of music performed on clay instruments by
The Burnt Earth Ensemble
"Your music seems to encompass every culture, reaching the listener on a primordial level."
- Joan Roberts, California

Click here to order the CD TERRA COTTA by The Burnt Earth Ensemble


Price: $12.99 with FREE SHIPPING in the USA.
Also available on and at Amazon.com
Armed with haunting flutes, growling didjeridus, raucous fiddles and thundering drums, the Burnt Earth Ensemble coaxes tantalizing music from the material of the Earth herself. The group's music is uniquely original, with Celtic, African, Middle-Eastern and jazz influences. Fantastically original and organic instrumental forms swirl together in an improvised stew that uniquely expresses the delicate beauty and raw earthy power of ceramic musical instruments.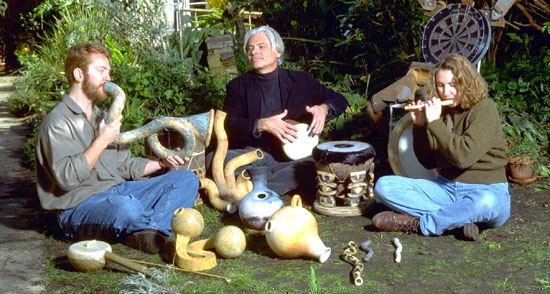 Barry Hall, Richard Smith and Beth Hall
"The only thing I didn't like about this CD was that it ended!"
- Lisa Lewenz, Director, Maryland Art Place
The CD "Terra Cotta" includes 19 tracks with over 70 minutes of music. Click on the name of a track for notes on the music and to listen to a sound sample.
1. Muffeludu
2. Cactus on Mars
3. Diablo
4. Tar Zen
5. Zakopane
6. .925
7. Vindolandia
8. Oy Comamos/Tourdion
9. Sunset
10. Song for Ireland
11. Oliphant
12. Daedalus
13. Blue Ice
14. Equinox
15. Kanaha
16. Terra Zona
17. Tundra Enlightening
18. Pangea
19. Siberian Hoedown
"Listening to your music I found myself relaxed, meditating, or moved, depending on the song. My 9-year-old daughter danced to it with wild abandon. There is some kind of primal essence in your music that seems to take us home again."
- a listener in Norwalk, Connecticut
"This, to me, is world music. Maybe even 'Universe Music'."
- Reviewer on iTunes
---
ABOUT THE ARTISTS
| | | |
| --- | --- | --- |
| Mark Attebery (flute, triple-chambered ocarina) is an award-winning musician, composer and music educator. He specializes in composing music for dance and theatre that incorporates many unusual wind instruments. Mark holds a BA in Music and an MA in Arts Education, and is currently a band director at the prestigious Ethical Culture Fieldston School in the Bronx. | | |
| | | |
| --- | --- | --- |
| | | Geoff Brown (didjeridu) is an eclectic musician who, after 25 years as a drummer, fell for the didgeridoo when he heard Stephen Kent's work with TranceMission on the radio. For the last dozen years, he has been using the didgeridoo, hand percussion, and the Tibetan singing bowl to play for improv dance and for yoga classes. He also plays traps for the occasional rock-n-roll band. He has a large collection of didjeridoos, but two of his favorites are Barry's ceramic ones. Geoff makes his living working for Apple Computer and doing Watsu™ or other forms of aquatic massage. |
| | | |
| --- | --- | --- |
| Barry Hall (fiddle, globular horn, overtone flute, ocarina, recorder, nose flute, didjeridu, clay bass, percussion, voice) is the founder of the Burnt Earth Ensemble and the creator of the group's instruments. An expert in the design and construction of clay instruments, Barry is the author of the book and CD, "From Mud to Music: Making and Enjoying Ceramic Musical Instruments," published by the American Ceramic Society. Barry is also a Fellow of the Society of Actuaries, and practices as a consulting actuary. | | |
| | | |
| --- | --- | --- |
| | | Beth Hall (flute, didjibodhran, voice) plays winds and percussion with Burnt Earth. She has played string instruments for 37 years and also writes original songs and music, including many of the pieces on "Terra Cotta". Beth is a licensed psychologist with two doctorates in clinical and counseling psychology. In her spare time she plays the Great Highland bagpipe and enjoys working with her hands doing silversmithing, blacksmithing, and fiber arts. |
| | | |
| --- | --- | --- |
| Richard Smith (doumbek, udu, flowerpotophone, conundrums, shaker, voice) is a multi-percussionist conversant in a wide variety of musical styles. In his diverse musical career, he has been the architect of many musical groups, including the organic-electronic "Janus Ensemble" and the jazz trio "Vivant," as well as modern dance and theater productions and film soundtracks. Richard is currently working with the 12 piece multi-media improv ensemble "dud" in the San Francisco Bay area. | | |
WITH SPECIAL GUESTS:
| | | |
| --- | --- | --- |
| | | Stephen Kent (didjeridu) is one of today's most respected and prolific didjeridu performers, bringing the ancient Aboriginal sound into a contemporary context. During a career which led him from his native South Africa to Australia, London, and San Francisco, Stephen has developed an approach that is unmistakably his own, exploring a broad range of playing styles and musical genres. Along the way he has amassed a catalogue of over a dozen critically acclaimed CDs, including four solo releases and others with his group projects Trance Mission, Beasts of Paradise and Lights In A Fat City. |
| | | |
| --- | --- | --- |
| Alan Tower (huaca) composes and performs extensively using multi-chambered ceramic huacas created by Sharon Rowell. He is also an accomplished didjeridu player and an innovator on the hang, a modern Swiss metallophone. Alan is the leader of the band Free Energy and the founder of Octave Alliance, an organization dedicated to using music as a voice and catalyst for a more humane sustainable culture. | | |
---
ABOUT THE INSTRUMENTS
Our planet is wrapped in clay, wherein lies the origin of all life on Earth, as well as the source of all of the music on this recording.

The process of turning clay into a musical instrument involves a magical combination of what the ancient Greeks determined were the four basic elements: earth, water, air and fire. Clay is formed over millions of years, as rain slowly dissolves the Earth's mountains. Other organic materials mix with the tiny stone particles, giving clay the proper consistency to be molded into almost any shape - water jars and cooking pots, or flutes, drums and horns. When this fragile earth-water mixture is combined with fire and air, a remarkable structural change occurs. The clay's molecules rearrange into a "crystal lattice" that is extremely strong and acoustically resonant. This is what endows ceramic musical instruments with their unique tone - the sound of the Earth herself.

Many of the clay instruments I build are based on traditional designs, such as flutes, pot drums, and goblet drums. Others, such as didjeridus and fiddles, are ceramic versions of instruments traditionally made from other materials. Some are experimental designs such as globutubular horns with resonators. And others are hybrid instruments such as the didjibodhrán (a combination frame drum and didjeridu) and the stone fiddle (a combination fiddle, flute and drum made from ceramic stoneware). Although some of my instruments use non-ceramic components such as gut strings or goatskin drum heads, all of the instruments you hear on this recording are constructed primarily from clay. I find it extremely satisfying to be able to transform such a simple material into a vessel for one of the most powerful human expressions - music.

- Barry Hall